The Grand Cypress Resort: An Escape from Reality near the World of Disney
Orlando, FL – Here, in the heart of Walt Disney World, one of the biggest children's playgrounds in the world, there's also a wonderful playground for adults as well.
The Grand Cypress Resort boasts all the toys that will make you feel like a kid again – from golf and horseback riding, to tennis and swimming and a world-class spa. Adults can play all day and party all night when they venture into this recreational paradise.
The resort, which sits on the outer fringes of Disney in a southern section of the city, is considered one of the premier golf destinations in the country. Golf Magazine awarded it a Gold Medal award in 2000, making it one of just 20 golf resorts nation-wide to earn the honor.
Although famous for its 45 holes of Jack Nicklaus-designed holes of golf and its Golf Academy, Grand Cypress is hardly one-dimensional. In fact, non-golfers might have more fun than the golfers with all the entertainment options, beautiful facilities and dining experiences. Even the little things, like concierge and babysitting services, aren't overlooked. Let's tour this 1,500-acre escape from reality:

LODGING: The grand 750-room Grand Cypress Hyatt Regency is the heart of the resort, but the Villas of Grand Cypress are its biggest prize.
The villas are exquisite, Mediterranean-themed vacation homes that vary in size, including Club Suites and 1 , 2 , 3 and 4 bedroom units. The patio or veranda overlooking the flowing fairways are perfect places to enjoy a relaxing sunset. Inside the one bedroom, there's a lower level with a couch, table and desk. Up several steps sits a cozy bed and TV. The bathroom is large, with a luxury, jet-propelled bathtub and separate shower. Other amenities like fireplaces and Jacuzzis are also available.
"The layouts are awesome," said Pennsylvania resident Trisha Gavin, who visited recently. "The patio and the large bathroom are what make the rooms (so comfortable)…They are like a bungalow layout. They remind me of a tropical paradise, like Hawaii."
How lavish are the villas? Orlando Magic basketball star Grant Hill was living in one until his permanent home was completed.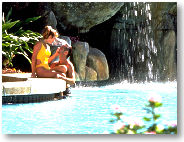 The Hyatt, which is just down the road from the villas, is an incredible sight. Its atrium is filled with flowing water and flower gardens, elegant furniture and a pleasant ambience, thanks to the piano accompaniment from the nearby Trellises lounge.
Besides five restaurants, the Hyatt is home to the resort's 14,000-square foot executive meeting center. It offers 7,000 square feet of space in three large conference rooms, which can divided up into seven separate, sound-proof rooms for meetings or banquets.
Maid service is twice daily and room service is open 24 hours at both places, assuring your every need is met. That service is what impressed Gavin most.
"The staff can't do enough for you," she said. "We had a problem with our phone and they came and fixed it right way. It's things like that you remember."
ENTERTAINMENT: Whether you're looking to relax or non-stop action, Grand Cypress can deliver both, and more.
For relaxation, just visit the spa/beauty salon or let a wonderful massage come to you in the privacy of your own room. Lounging by a pool or a walk along the resort's Audubon nature trail are also perfect tranquilizers. Jacuzzis are located at both pools, but families will be best served by hanging out at the Hyatt's humungous pool.
The Hyatt's backyard can entertain for hours, or even days. The free-form pool is one of the world's largest. It is built into a huge rock formation, featuring two waterslides, a walking bridge and numerous Jacuzzis hiding under the mountain's many caverns.
Nearby, there's a video game room, a 9-hole pitch-n-putt golf course and a lake, where canoe, paddleboat and sailboat rentals are available.
For more active guests, the racquet and equestrian clubs are two of the classier amenities at the resort.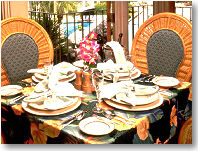 At the Racquet club, players can use eight clay courts and four hard courts, rent ball machines or take a lesson. Two open-air racquetball courts are also an option. The equestrian center is truly a marvel for a golf resort in the middle of a booming city. Riders can take lessons or enjoy trail rides, with one winding through the nearby golf courses.
Jogging trails and the fitness center can keep you in shape while you're away from your home gym.
Just outside the resort's gates is one of America's greatest entertainment venues. Walt Disney World caters to all ages, but of course, the kids will love it. Disney brings in millions of visitors each year with theme parks, such as Epcot, MGM Studios, Animal Kingdom, Downtown Disney and the Magic Kingdom. Free shuttle service from the resort to various Disney attractions runs daily.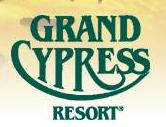 Besides Disney, travelers face many difficult choices. Should you visit Seaworld Orlando or the Orlando Science Center? How about tomorrow? Maybe head to Universal Studios Escape or spend a day at Gatorland and Wet 'N' wild? Adults might enjoy Universal Citywalk, a collection of nightclubs and restaurants for some excitement after dark.
So many choices, so little time. Sounds like a good problem to have.
DINING: As any traveler can attest to, vacationing isn't only about where you visit, but how well you eat.
The best part of the resort's eateries is the variety. Too tired to dress up? The Fairways in the golf clubhouse is a casual spot for breakfast, lunch or dinner, as is the Cascade at the Hyatt.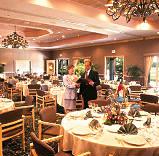 La Coquina, Hemingways, the White Horse Saloon and the Palm Café and General Store are also located at the Hyatt. Hemingways specializes in seafood and steaks, while the White Horse serves up mean prime rib or barbeque ribs.
But the jewel in the resort's crown is the Black Swan, an elegant haunt in the clubhouse. Jackets are suggested, as visitors soak in fine cuisine and a piano serenade.
Of course, there are many more chain restaurants within a minute's drive, but like everything else at the resort, you never have to leave to satisfy your every urge.