Timacuan Golf and Country Club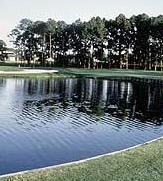 LAKE MARY, FL - In its relatively short life, Timacuan has been the subject of a variety of appearances. While to many it's always been the highly popular track at the center of a comfortable development on the north side of Orlando in Lake Mary, others see something that resembles Frankenstein's monster, a curious amalgamation of pieces pulling strangely at each other, a whole that is rather different from its varied parts.
Few courses in their entire existence will undergo the changes and problems that Timacuan has seen in the mere 14 years since it opened for play in 1987. Originally, the course was attractive and excitable, a bold and quintessentially Floridian layout hailed as one of its great new courses. The golf, as planned by Florida architectural guru Ron Garl, was wet and challenging, reflective of the popular photogenic modes of the era. Timacuan quickly garnered notoriety, and for a time, was one of the premier golfing venues in the state.
Serious drainage problems could not be reconciled, however. The course was often flooded and suffered from frequent water damage. When it became evident that major renovations were necessary, another Florida-based architect, Bobby Weed, was called in, and at a tender age, Timacuan was put under the knife. Weed's redesign corrected the flooding problems and also changed the appearance and playability of the course. A few holes were created or melded together, greens were redesigned, and bunkers added. The old course was generally dressed up and modernized, but Weed was never able to fully pull away from the Garl creation.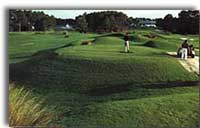 Consequently what Timacuan has been since that 1996 redesign is a course that bears the bones and some leftover flesh of Garl's 1987 assembly, but doesn't quite exude the quality or characteristics of Weed's best work elsewhere.
Nonetheless, so entrenched was Timacuan's reputation, and so enthusiastic is its constituency, that it remains one of the more talked about and respected courses in Orlando.
But sizing up Timacuan is not a simple task---it is too divergent, unharmonious. We think we detect signs of Weed here, Garl there. The green at the first hole seems very Weed-like, a slightly domed and interesting complex of subtle breaks and levels, and the next is completely different, flat and featureless. One fairway is a natural, busy river of humps and hollows, and then the next one is a snaking "S" bordered by bulkhead. Which is which? As it stands, the official credit for the course goes to Weed, but there are unmistakable remnants of Garl, and age.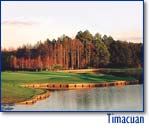 Part of the initial attraction of Timacuan was the diversity of the land on which the course resides. The front side plays out largely and works its way toward a rise at the sixth green that is one of the highest points in the area. This part of the course is open and dry, the terrain more involved. The second nine is clustered and the holes tight as it folds through the trees and around lakes. The marketing people will tell you that the front is like playing on Scottish links, the back like Myrtle Beach. Great. For the record there is absolutely nothing links-like about the first nine holes, and if anybody is reminded of Scotland after playing it, he should be asked "Scotland, Earth?"
As strange as it seems, none of this is particularly a failure for Timacuan. One could say there is something here for everyone: two distinct nines, the influence of two architects, a dramatic variety of green sizes and styles, a spacious clubhouse, and a mix of variant holes. It can be played from 6,915 yards down to 4,576 yards, has hosted a variety of notable state tournaments, and it is said that it was once ranked as high as the 14th best course in the state by Golfweek.
There are excellent holes here, notably the powerful, 457-yard sixth that rolls and rises widely into a smallish green surrounded by man-made dunes covered in native grasses, and also the narrow 364-yard dogleg right 11th where the drive must challenge the long waste bunker that protects the entire right side of the hole. Here, one can attempt to carry the majority of the bunker to leave a short pitch into a thin and tricky green or lay back with an iron and have a difficult approach.
Some holes are odd. The fifth is close to being a very good par five at a reachable 526 yards, with a disjointed fairway laid out in sections, interesting placement of bunkers, and a giant, well-protected green, but the tightly packed and omnipresent houses with their boxy enclosed swimming pools add a decisively suburban feel to an otherwise spacious hole. The 18th, too, is odd and slightly interesting, a 450-yard par four that exists almost on its own piece of property. It begins amongst the houses and plays out to a tight fairway that bends to the left into a low, flat green. The set-up feels forced and it doesn't appear that drives can clear the trees at the bend on the left. It doesn't play or feel like any other hole on the course.

A few holes are just plain bad. The second literally seems patched together and forced. The drive on this 421-yard par four must carry water to a peninsula fairway. The angle from the rear tees brings the water on the far side of the fairway into play if the drive doesn't check, a real difficulty considering the recent drought that has effected Timacuan worse than most courses (it's a sadly ironic note that the course that used to flood cannot now get enough water). The approach must carry the water again into a flat green that presents one of the most vague targets in Orlando. There is almost no room to bail out or play percentage except over the green. Muscular players, however, will enjoy taking shots at the green over the farthest reaches of the first lake.
The par threes are as diverse as they come. The fourth plays long and uphill, the seventh is into an island green surrounded by sand, the 13th is a pretty and serene one-shotter amongst trees, and the sixteenth is long, pure shot and all-carry over water (when there is water).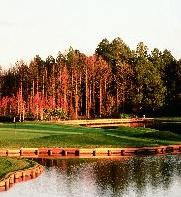 That Timacuan is irregular and disjointed is something that doesn't seem to affect its continuing popularity, probably because its local membership is so active. It is consistently one of the more highly regarded courses in Orlando. Both of Lake Mary's other two premier public golf venues, The Legacy Club at Alaqua Lakes and Magnolia Plantation, are more impressive courses, but that doesn't matter to those who play at Timacuan. Timacuan, a course from a generation immediately previous and in the same mold as MetroWest, seems to be doing fine just, thank you.
All in all, you've got to admire the course's resilience and ability to continually rebound from adversity while still maintaining its place on Orlando's A-list. Its latest plague---drought---could have been particularly crippling throughout the summer of 2001, for clearly Timacuan is a course that benefits from water, both in maintenance and appearance. When it is at its best, Timacuan's strongest feature is the type of lush conditioning that members and locals love.
Location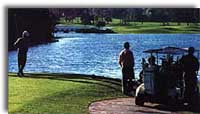 Timacuan is located in Lake Mary, east of I-4. Exit at Lake Mary Boulevard (exit 50) and travel east to Reinhardt. Go north on Reinhardt for 1.5 miles and turn into Timacuan on the right.
Rates
Off-season rates (through September) are $43 weekdays and $49 weekends. Beginning in October the rates rise to the $65-$85 range. Twilight rates are available, ranging from $25-$33. Call the pro shop for current fees.
Walkability
Timacuan does not permit walking as a rule, but it is a good walking course, and at certain times they may permit you to hoof it.