Jacksonville itinerary includes some nice golf as well as a stop at the beach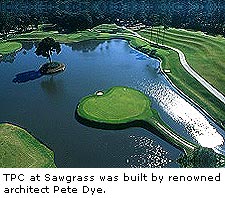 JACKSONVILLE, Fla. - You don't have to be a golfer to experience cultural shock and awe in Jacksonville. You can start at the eastern edge ofDuval County gaping at women in bikinis on the wide beaches of the Atlanticand, traveling west, end your cross-county sojourn looking at farmers inoveralls kicking mud off their boots.
In between, you can find just about anything on the culturalbarometer, including an NFL team, enough barbecue joints to stuff a hog factory,an equal amount of upscale and downscale bars and restaurants, a symphony orchestra and ubiquitous, soaring Baptist churches reminding you thatyou're still in the Bible Belt, where ostentation is a virtue.
The golfing experience, while not quite as shizoid, does offer some variation. While most of the First Coast courses are typicallyFloridian - flat, sandy and wet _ there are some surprises.
Hobnobbing and Slumming
The perfect Jacksonville golf itinerary would therefore start with the mecca of golf history at the World Golf Village, where, if you go before the spring of 2005, you can see a special exhibit featuring the tractor Arnold Palmer's dad used to plow through Pennsylvania fields.
We will then take you through some world-class courses that do anddon't follow the natural contours of the terrain - so different from south Florida - including a couple of working-class courses that almost every Jacksonville golfer who has ever cursed a missed putt has surelyplayed.
Assuming a week to 10-day stay, we'll take you to courses where youcan hobnob with the rich and famous or slum with the down and out.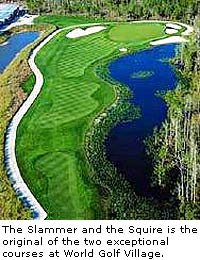 - The Slammer and the Squire is the original of the two exceptional courses at World Golf Village, and the easier. You can play this one in preparation for the King and Bear. The S&S is close to the resort's Hall of Fame - you can take extra time studying the tractor - and the resort itself is between Jacksonville and St. Augustine to the south.
Designed by Bobby Weed with input from Sam Snead and Gene Sarazen,the course isn't easy, but neither will it be unduly nasty to the averagegolfer who keeps the ball fairly straight. The greens are undulating, butlarge. The fairways are impeccably manicured, the rough is playable andthere's plenty of elbow room around the greens.
There is GPS on all carts and five different tee boxes for alllevels. Average hacks should probably stick to the blue tees.
Jack and Arnie: Fast Friends?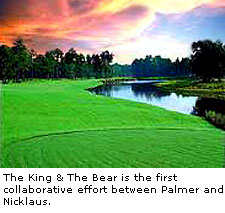 - Now you're ready for the King and the Bear, the course that has been hailed as a true collaboration between Jack Nicklaus and Arnold Palmer.
"Everyone is going to want to play this course," said HarrisonMinchew,a senior architect for Palmer's design firm.
That's what had the developers salivating; they were counting on themarquee name value to boost flagging home sales.
The course is 7,279 yards from the back tees. Don't be intimidated, the course isn't that hard. There is nothing nefarious about it; thehazardsare mostly there for you to see. The fairways are fairly wide, the greensare particularly attractive and you can bump and run almost to your heart's content.
There was some concern that the two titans might clash on thedesign,but that did not appear to be the case.
"I think others, primarily the media, like to label us rivals,"Nicklaus said before the course was built. "But we just happen to compete inmany of the same arenas - whether it's on the golf course or in golf-coursedesign. We have always enjoyed competing against each other, but at the sametime, we've always respected each other and we've remained friends."
Dye: Moving Heaven and Earth.
- The First Coast is known, of course, for the Stadium Course at TPCin Ponte Vedra and its not-so-guilty pleasures of watching the pros grow infuriated with the 17th island hole. Now you can get wet andinfuriated, too. Relax, better men than you have dunked it here.
The place was already a man-made bog when Pete Dye started movingheavenand earth with bulldozers. Now, after years of evolution - most of itcaused by the carping of the touring pros, who had contests to see who could comeup with the best insults - the course has matured spectacularly.
It's still target golf, which means if you don't hit your target,you'rein trouble. Befitting a former swamp, water is everywhere, sometimeshiding alligators and other swamp creatures. It is still a tight course, with narrow landing areas, bunkers with big, fat lips to block your approachto the green and, if the wind decides to blow, well, forget about it.
The mounds are great for spectators and the spectator golf conceptchanged the course of the PGA Tour, but they can be misery for errant golfshots. Nor is the course particularly long, but you have to be precise.
Howling at the Wind.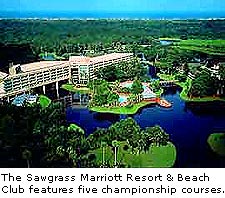 - Sawgrass Marriott Country Club: A personal favorite, I used to play this course, the original course now called the "West/East course," as a teenager; we loved to hoot at the howling winds that would take your tee shots to the craziest destinations. Then again, that's the sort of thing you can enjoy only as a teenager.
- After these three courses, it's time to boost your failedconfidenceand introduce you to the seedier, more laid-back charm of northeast Florida golf. You can work on your tan and your esteem at the same time at thewide open, virtually tree-less Jacksonville Beach Golf Course.
No tank tops or cutoffs, but anything else goes, and you'll probablyseeit here. The course itself offers just enough challenge to keep you awakeafter your wild nights along A1A. There are a large number of out-of-boundsstakes and quite a few sand bunkers. And, as is always the case anywhere alongthis stretch of sandy coast, the wind can jump up and smack you around atany time, particularly with nothing to slow it down. But, this isessentially a place where you can enjoy golf, beer and the sun on your face. Relax,there' s no one judging your attire here.
The city-owned facility recently finished a 5,000 square-footclubhouseand 10 of the greens have been re-done. Built in 1952, the course was re-designed in 1987 by Bob Walker, the original architect.
- We'll stay at the beach, but move from the ocean to theIntracoastal Waterway, and to Queen's Harbor, a design by Jacksonville's MarkMcCumber.
There are many who swear this is one of the area's top courses, andithasa reputation for being one of the best maintained courses, year-round.Anddon't kid yourself, Jacksonville can get cold in the winter, despitewhatthe Chamber of Commerce will tell you.
A private course with a lot of ancient oaks on the grounds, it lieswithina sterile, gated community.
And Now for Something Completely Different.
- By now you may have had enough of the beaches and these hot, flatcourses, so typically Floridian. It's time for something completely different:the cool shade and wild terrain of The Ravines Golf and Country Club.
Located about 45 minutes southwest of Jacksonville, locals call thisa "mountain" course. While hardly mountainous, you still won't believeyou're in Florida, except for the southern accents warning you about the deep ravines that so frequently lead down to Black Creek, which slitherssubtly through the course.
Another long-time, personal favorite, the 6,733-yard course offerselevation changes from tee to green on virtually every hole. Another McCumberdesign, the Ravines is consistently ranked in the top 25 of Florida courses andhas made national lists as well.
It also features a one-acre, 18-hole putting course.
The "Other Half".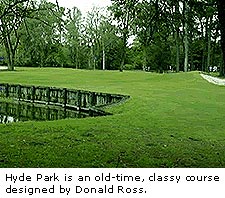 - Since you're in a "non-beach" mode, now is a good time to play Hyde Park, one of the oldest courses around. On your way into the heart of the city, as you turn off Interstate 10 onto Lane Avenue, you might want to take a look around: this is how the other half lives in Jacksonville.
No beach glitz here, no faux coquina shell construction andabsolutelyno ferns. This is where K-Mart shoppers come to hang.
Hyde Park fits in, though there is nothing discount about thecourse.The place is awash in local golf lore, and not so local lore: Ben Hogan issaid to have once fired an 11 on the 151-yard sixth hole.
Every golfer who grew up in Jacksonville and amounted to anything,andmost of those who didn't, has played Hyde Park. Yellowed newspaper clippingstell of PGA Tour events hosted back in the 1940s, when they still worefedoras, and the 50s.
An old-time, classy course designed by Donald Ross, Hyde Park alsooffers ravines, though you won't encounter them until the final five holes;the rest of the course is flat. Some fairways are wide, offset by smallgreens.
By the way, this is a convenient time to eat dinner at Beach RoadChicken Dinners, on Atlantic Blvd. (which used to be the only road in town thatled to the beach; hence, it's name). It's the best deal in town, and a good antidote to all that high-priced hooey you've been eating at the beach.
Back to the Beach
- But, you probably came to Florida for the beaches, and so it'sback tothe best beaches in the area by far: Nassau County, about a 20-minute drive north of Jacksonville up famed A1A.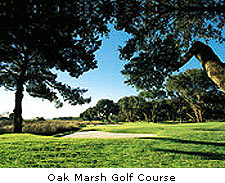 The Amelia Island Plantation has three courses: Ocean Links, Oak Marsh and the Tom Fazio-designed Long Point, where tee times can only be made a day in advance, and only if you're staying at the resort.
You might want to consider playing Ocean Links first for itsspectacular ocean views. In fact, that's the only reason you might want to considerit. It's a great nature walk.
Oak Marsh is a Pete Dye course with typically tight fairways andtiny greens, and you will see enough bulk-headed greens to make you hatewood. Walking is allowed on this course after 4 p.m.
If you're lucky enough to get a tee time for Long Point, this shouldbeyour high point. The back side is a little easier, and has two consecutive, oceanfront par-3s. Long Point has the best putting surfaces, though alittle slippery at times.
Yes to Oysters, No to Shrimp.
Two tips here: Skip the fancy Amelia Island restaurants and head tonearby Fernandina Beach for two reasons: Sliders on the oceanfront, and thePalace Saloon downtown, supposedly the oldest bar in Florida, and a rollickinggood time.
However, if you happen to be in Fernandina during thehighly-publicized Shrimp Festival in May, skip it. It's a tourist rip-off.
Other options: Laurel Island Links, a Davis Love-designed gem of apublic course just over the border in Georgia, Osprey Cove, just north of Jacksonville, and Ocean Hammock, a Jack Nicklaus creation between St. Augustine and Daytona Beach that some golfers swear is an underratedjewel.
May 16, 2004