Option 1:
Destination Daytona – more than just golf
The Daytona Beach area, stretching from Ormond-by-the-Sea to the quaint fishing village of Ponce Inlet, boasts 23 miles of sparkling, white-sandy beaches and hosts more than 8 million visitors from around the world each year. They come not only for NASCAR races and Speedweeks, but summertime concerts by the London Symphony Orchestra during the biennial Florida International Festival, Biketoberfest, the Halifax Art Festival and, of course, for some amazing golf.
Speed drives tourism in the home of the Daytona 500. But if you slow down, you'll discover fascinating history, eco-attractions, a revitalized downtown and a thriving arts scene at the "World's Most Famous Beach."
There is history all around in Daytona Beach. The Ponce de Leon Inlet Lighthouse, standing the tallest in the nation as the guardian of the Florida coast; Ormond Beach, where by the turn of the 20th century, automobiles were racing along the beaches and pioneers were blazing the sands with their record setting driving; and the 121 year-old Plaza Resort & Spa are just a few of the historic sites in the area. In fact, history takes precedence as the top reason people flock to Daytona every year.
Besides the beautiful beaches and innumerable recreation activities, Daytona offers more golf than you can pack in. The area lays claim to a number of eminently playable golf courses, including:
LPGA International Champions and Legends Courses
The home of the LPGA Tour presents challenging, affordable and memorable golf -- city residents can play for as low as $25 at twilight.
The newer Legends Course, designed by Arthur Hills, opened in October 1998, and guides the golfer through testing, target golf, surrounded by tall, dense pines, magnolias and centuries-old oaks. On this 6,984-yard, par 72, you must be precise on Nos. 10 and 18 -- both are protected in front by dense wetlands. The par-3 beauties at 3 and 7 both require forced carries, as do tee shots on seven total holes from the back tees.
The Champions Course, designed by Rees Jones, opened in July 1994, and is much more forgiving. At 7,088 yards from the back tees, this course present problems if you get an uneven lie on the strategic mounding, or stray one into the marshy areas or numerous lakes. It's a links-style design that has hosted The Titleholders Championship, presented by Mercury, one of the LPGA Tour's top events. The course is dedicated to such great champions as Kathy Whitworth, Patty Berg, Louise Suggs and Babe Zaharias.
Perhaps the most difficult hole to play for the ladies is No. 13, a 478-yard, par 5, featuring a water carry for the men, but a straightaway, bunkered fairway and water protecting the green from the red tees.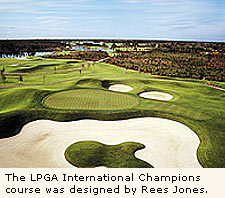 "This is a strong par 5 test with water and bunkers right, which encourages you to play left for the first two shots," says Michelle McGann, a seven-time winner on the LPGA Tour. "A ramped entry to the green allows a bump-and-run approach, avoiding deep bunkers on both sides of the green. If you miss your approach right, you might find the lake."
Champions was the first golf course in history designed for professional women golfers. Golf for Women rated it No. 1 among "America's Best Women-Friendly Golf Courses.", and the LPGA moved its headquarters here in 1989 from Houston.
LPGA International Champions and Legends Courses
300 Champions Dr
Daytona Beach, FL 32124
Telephone: 904-274-5742.
Internet: www.lpgainternational.com.
Green Fees: $65 public, Florida resident, $50. City of Daytona Beach, $40. Twilight after 2 p.m. $30. ProLink GPS System.
Halifax Plantation
Just off the Old Dixie Highway, 2.6 miles from the Atlantic Ocean and surrounded by Bulow Estate Park and Tomoka State Park, the traveling golfer will find cooling shade under the canopy of 100-year-old oaks and a terrific traditional golf course. Donald Ross just might cross your mind numerous times.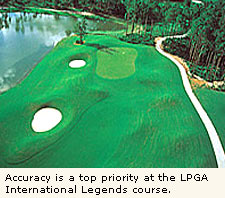 The rolling terrain of Halifax Plantation Golf Club is not only scenic, it's also very playable. It's a nice change of pace -- just hit the ball in play and you will like your score at the end of the day.
Designed by golf course architect, Bill Amick, the semi-private, 7,128-yard , par 72 is tree-lined, has puttable contoured greens and a choice of five elevated tees. Old-style features include fairway bunkers that appear greenside, but in fact are 40 yards in front.
The course is located near the ruins of historic Bulow Plantation. Golfer Joe Rogers of Little Rock, AR says, "it's such an old and historical location I think it was imperative they build an old-style golf course. Even as you turn into the property, the canopy of trees remind you of an old plantation. I love this golf course. It's very playable and a breath of fresh air from some of the really grueling courses that are being built today."
Halifax Plantation Golf Club
3400 Halifax Club House Drive
Ormond Beach, FL 32174
Telephone: 904-676-9600 or 800-839-4044.
Green Fees: Prime season, $40. Off season, $25. Golf Carts $12 per person.
Internet: www.halifaxplantation.com.
Ocean Hammock Golf Club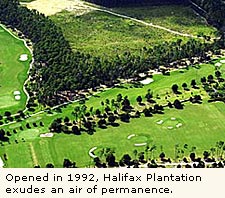 Ocean Hammock in Palm Coast was the first oceanfront golf course built in Florida since Seminole in 1929 and was recently named 10th best on Golf Digest's Best New Upscale Courses list.
Jack Nicklaus' 7,201-yard, par 72 beauty is a stern test of golf. Pay attention or face a humiliating high number on your scorecard. Play smart golf and you will be rewarded.
Golfer Larry Burgess of Dallas TX says he was amazed at just how tough the golf course was. "Perhaps the beauty of the place takes your mind off the game, but I kept having a hard time concentrating. I'd get ready for a tee shot and I'd hear the pounding surf. Then I'd look at the GPS and see this waste area to the right of the fairway and water to the left and I'd forget to finish my swing favoring the right side. The waste area then would penalize me another stroke."

Dubbed the "Pebble Beach of the East", Nicklaus says only time will tell whether Ocean Hammock measures up. He says there's no place like the Monterey Peninsula, but he thinks visitors to Ocean Hammock won't forget the golf experience either.
Perhaps the 10 water holes inland will also stay in your memory -- they could be more creative than the six holes that border the Atlantic. The interior fairways are routed through oaks, pines and scrubby dunes, but the fairways are typically wide Nicklaus designs. Prior to construction, the terrain was flat but the dirt and sand used to dig out the lakes was used to put undulations in the fairways.
Two of the seaside par 4s are monsters. The ninth is a 468-yarder and the 18th measures 466, part of the "Bear Claw" that includes 15 through 18. The 15th is another long par 4 at 450 yards going uphill. The 16th is a risk-reward tee shot just daring you to cut off more water than you can and measures 399. The 17th is a 174-yard par 3 that is fronted by water and a huge sand trap.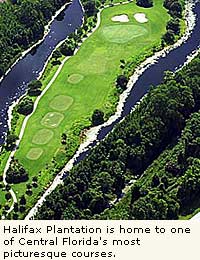 Nicklaus would like the tract to be a tournament site one day. It definitely would look spectacular on TV with views high above the course on those tall cranes.
Ocean Hammock Golf Club
200 Hammock Dunes Parkway
P.O. Box 354489
Palm Coast, FL 32137
Telephone: 888-515-4579 or 386-446-5584.
Green Fees: $175.
Internet: www.oceanhammock.com.
E-mail: oceanhammock@navi-gator.com. Awards: One of the "Top 10 New Courses You Can Play" by Golf Magazine. One of the "Best New Courses" by Golf Digest. Named a "Modern Classic" by Links Magazine.
Area Golf Course Listings: http://www.golfdaytonabeach.com.
Where to Stay
Hilton Daytona Beach Oceanfront
2637 South Atlantic
Daytona Beach, FL 32118-5643
Telephone: 386-767-7350.
Internet: http://www.hilton.com/en/hi/hotels/directions.jhtml?ctyhocn=DABHIHF
The Hilton Daytona Beach Oceanfront Resort is located on the Atlantic Ocean on the quiet, south end of the east coast's most famous beach. It is eight miles southeast of Daytona International Airport and two miles north of the A-1-A. The hotel is ideally located near many local attractions including Historic Street.
Plaza Resort & Spa
600 N. Atlantic Avenue
Daytona Beach, FL
Telephone: 904-255-4471 or 800-767-4471.
Internet: www.plazaresortandspa.com.
Where to Dine
Chart House, Daytona Beach
You can't go wrong with the seafood or steaks at the Chart House at 1100 Marina Point Drive in Daytona Beach. Telephone 904-255-9022. Email them at daytonabeach@char-house.com. Internet: www.chart-house.com/locations/daybeach/index.htm.
Buca Di Beppo, Daytona Beach
For a fun, loud dining experience with huge Italian portions try Buca Di Beppo -- where the Pope dines in Daytona Beach. Check out their web site at www.bucadibeppo.com. Address is 2514 W. International Speedway, telephone 386-253-6523.
La Crepe en Haut, Ormond Beach
If it's dinner with the pinky finger-extended crowd you like, try La Crepe en Haut in Ormond Beach at 142 East Granada Blvd. in Fountain Square. This is elegant gourmet dining but with a mixture of southern hospitality. Telephone: 904-673-1999.
Sights to See
The Ponce de Leon Inlet Lighthouse
The Ponce de Leon Inlet Lighthouse has a brick foundation 12-feet deep and 45-feet wide and soars to 175 feet, making it one of the tallest brick lighthouses in the nation. Built in 1887, the tower is 32 feet in diameter at the base and tapers to 12 1/2 feet at the top. The brick walls are eight-feet thick at the bottom and 1 1/2-feet thick at the top. One and a quarter million bricks were used to build the lighthouse, and the work took more than four years to complete. www.ponceinlet.org.
For NASCAR fans, a trip here wouldn't be complete without a visit to Daytona USA. a one-of-kind interactive motorsport attraction, featuring a variety of hands-on activities.
(www.daytonausa.com)
Course Reviews
Features
Resort Reviews