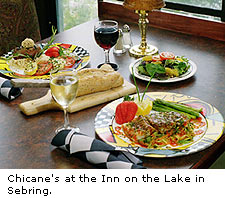 DINING OUT
Sebring offers an array of dining choices
By Brandon Tucker,
Senior Writer
Should you decide to take a break of the golf course, Sebring has two major shopping and dining areas worth looking into.
The 'circle' downtown is host to specialty shops and restaurants in a quaint, small-town atmosphere. U.S. Highway 27 is host to most of the rest, extending more than seven miles from north of Highway 98. Lakeshore Mall anchors this strip in the middle. Like most Florida towns, Sebring has an abundance of seafood, but the town runs the gamut in style offering everything from Mexican to Italian.
The area is especially known for its variety of popular tea rooms, including the Rose Room and the Oaks Tea Room. Some offer accommodations and full dinners, while others simply have tea and snacks.
The town has also seen an increase in American chains, most of which are off Highway 27, in case you feel like having your old favorite rather than trying something new. Among the chains in Sebring are Outback Steakhouse, Red Lobster, Barnhills and Ruby Tuesday.
Here are some of Sebring's most unique and popular choices for dinner:
Chicane's: The main dining attraction at the Inn on the Lakes, Chicanes serves gourmet dinner, as well as breakfast and dinner. The atmosphere is festive and the lakeside views at sunset are romantic. One of Sebrings finest and most popular dining establishments, Chicane's has a large menu and wine list, with a variety of seafood entrees, including tuna, grouper and shrimp. The cocktail lounge at Chicanes is open nightly until 2 a.m. for night owls.
Inn On The Lakes
3100 Golfview Road
Sebring, FL 33875
(800) 531-5253

Sebring Lakeside Golf Resort and Tea Room
500 Lake Sebring Drive
Sebring, FL 33870
(888) 2-SEBRING

Spring Lake Golf Resort
100 Clubhouse Lane
Sebring, FL 33876
(863) 655-6215

Blue Lagoon Saloon
4120 US Highway 27 N
Sebring, FL 33870
(863) 471-6001

The Santa Rosa Hotel
509 N. Ridgewood Dr.
Sebring, FL 33870
(866) 385-0641
Sebring Lakeside Golf Resort and Tea Room: The Tea room here is located in the recently restored historic ballroom of the old Lake Sebring Casino which opened in 1926. The room features panoramic views of Lake Sebring. An all-inclusive lunch is served for $12. Entrees include chicken salad, croissants, asparagus, rolled ham and hot seafood au gratin. The tea room, which is open for lunch only from 11 a.m. to 2 p.m., specializes in hosting groups and associations.
Sunset Grill and Yacht Club: One of three restaurants at the Spring Lake Resort, the Sunset Grill serves up fine steaks and a variety of seafood. The restaurant's deck lets you enjoy an icy-cold drink and bask in the lake's sunset. Also at Spring Lake is Michael's, slightly more elegant than the Sunset Grill. Spikes Sports Bar, downstairs from Michael's, is the most relaxing and casual of the options and is the best place to catch a game on TV.
Blue Lagoon Saloon: This is a fun little restaurant on Highway 27. They have some of the town's best chicken wings and also serve everything from oysters to half-pound burgers. Blue Lagoon's 16 TVs also mean it's one of the more popular spots to check out a Buccaneer's game.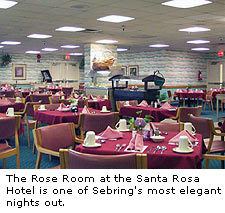 Rose Room at the Santa Rosa Hotel: Located in Downtown Sebring, the Rose Room offers traditional cuisine with a southern flavor in a classy atmosphere of an earlier time. The chefs are among the most creative in Highland County and the seafood and steaks are among the best as well. The Rose Room features live entertainment on Thursdays and Fridays and Downtown Jazz Night on Saturdays. This makes The Rose Room one of Sebring's most classy, upscale nights out.
Any opinions expressed above are those of the writer and do not necessarily represent the views of the management. The information in this story was accurate at the time of publication. All contact information, directions and prices should be confirmed directly with the golf course or resort before making reservations and/or travel plans.