Florida's first coast
a primary golf destination
Anyone who's been there will tell you that Jacksonville is one of the best-kept secrets on the eastern seaboard. A vibrant, midsize city with an enviable waterfront setting and an NFL franchise, "J-ville" as locals call it, often plays second fiddle to Atlanta, Charlotte, and even instate rivals Tampa and Miami in the southern city popularity contest.
For golfers seeking to soak up the seemingly endless array of daily fee golf offerings, this anonymity is part of the allure.
Beginning at State Highway 210 at the north end of St. Johns County (approximately three miles south of Jacksonville and Duval County) and stretching south to State Highway 207, there are seven golf courses within two miles of the interstate, most built within the last four years. Another 20 miles in each direction brings in nearly two dozen more.
As to why the sudden boom here, the simplest of answers might be the best: it's where the people are. Architect Clyde Johnston, whose St. Johns Golf and Country Club is the latest course to join the party, says, "I speculate that the I-95 corridor is desirable since traffic around Jacksonville has become more congested. [It] could be the World Golf Village aspect also."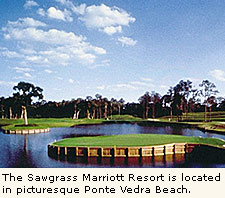 Jacksonville lays claim to 68 golf courses, most of which are available to the golfing public. Further cementing the First Coast's reputation as one of the true golf capitals of the south, the PGA Tour and Senior PGA Tour headquarters are in Jacksonville and the World Golf Village is a chip shot away in St. Augustine.
As for the lay of the land, Jacksonville and its environs are ill suited for most types of agriculture. Sandy soil and pine-packed parcels set up much better for (you guessed it), golf. The courses of the First Coast generally require accuracy above all other elements of the game. But there's enough variety in this not so little slice of golf heaven to keep ever make and model of golfer satisfied.
Florida Course Guide
Course Reviews
Features