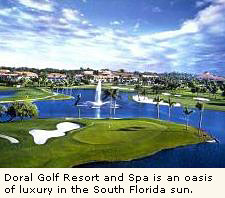 Naples, Miami anchor burgeoning South Florida golf scene
It's only fitting that the infamous "Alligator Alley" is one exit south.
The route from Interstate 75 to the Lely Resort could earn the nickname "Golf Course Alley" or "Hacker's Row." From the time you leave I-75 on exit 101 (a.k.a. Collier Boulevard) - the final exit before this well-traveled asphalt ribbon turns into a desolate road through the Everglades National Park - all you see are semi-private golf communities.
This links-loaded trek is just a reminder that this is not God's Country. More like Golf Country, if you ask anyone who's put tee to ground here. Naples lays claim to more golf courses per square mile than any other city in the world. And for the discerning golfer, quality does not suffer at the hands of quantity.
Should Naples not whet an insatiable appetite for upscale golf, Miami and its sundry of swank resort and semiprivate courses awaits on the east side of Alligator Alley. The crown jewel of the set is the storied Doral Golf Resort, with its 90 golf holes, 693 guest rooms and the country's largest pro shop (4,400 square feet).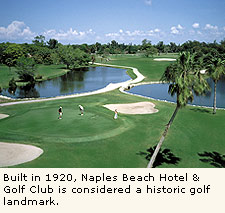 Despite all its amenities, Doral's biggest selling point might be its location - Miami is one of the most vibrant, entertaining cities in the country, if not the world. The resort is 15 minutes from one of the world's best beaches, South Beach, and its chic restaurants, elegant shops, and trendy clubs and bars.
Orlando may get more ink as the destination dejure, and Jacksonville is only a day's drive from most of the East Coast's population centers. But South Florida is worth the extra time and effort for golfer searching for luxurious links under the sun.
Course Reviews
Features
Resort Reviews