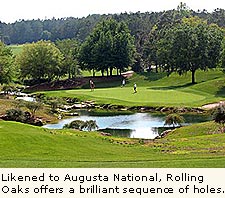 DESTINATION GUIDES
Tampa Bay has plenty to offer the traveling golfer
To an outsider looking in, the Tampa Bay area has it all. The enormous, sugar-white beaches of St. Petersburg/Clearwater are some of the best in the world. The peaceful, warm waters of the Gulf of Mexico and Tampa Bay are a veritable maritime playground.
The region's once moribund NFL franchise, the Buccaneers, have become the darlings of the town and captured the 2003 Super Bowl. Even the Devil Rays, the Bay's sympathy-inducing Major League Baseball expansion squad, lured highly touted manager Lou Pinella away from the playoff-contending Seattle Mariners.
Now, if this swashbuckling chunk of coastline along Florida's Gulf coast could only establish itself as a "golf" coast, we'd have to consider the Tampa Bay area as one of the premier destinations in the U.S.
It really shouldn't be a hard sell.
Not nearly as difficult as convincing transplanted northerners to step out of the 80-degree warmth and omnipresent sunshine and into a meat locker of a hockey arena to consume a mediocre Tampa Bay Lightning game.
Look closely and a reputation for being one of Florida's under-supplied golf markets is dissipating faster than the morning dew on the first tee box. Tampa Bay is home to an intriguing collection of first-class resort courses, upscale daily fee and semiprivate tracks and a heaping helping of affordable public access facilities sure to appeal to any skill level and income bracket.
A revitalized downtown and waterfront area that includes a new multi-sport arena, a sea aquarium, museums, hotels and eateries holds the city's urban and civic fabric together. Local planners, government officials and citizen groups have also banned together over the past decade to create a vision for the city reflecting its Hispanic and American heritage.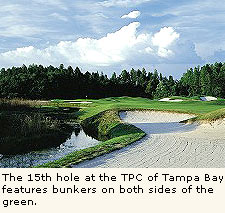 A series of residential/retail enclaves make Tampa one of the most unique mid-size cities in the South. Ybor City, former headquarters for the city's cigar-making business, is now home to a collection of bars, nightclubs and restaurants that pulses with activity and diversity nearly seven nights a week.
Busch Gardens has been Tampa's heavyweight attraction for amusement, but thanks to modern gem World Woods an hour north of the city, the title bout may not exactly be a knockout. This 36-hole Tom Fazio designed "core" golf panacea with its nine-hole short course and state-of-the-art practice center is deserving of its own mini-series.
Copperhead, the flagship track of the wildly popular Westin Innisbrook Resort in Palm Harbor, remains one of the Bay area's best. It was once ranked in Golf Magazine's "Top 100 You Can Play" and is the host course for the PGA Tour's Tampa Bay Classic. North of the city and just a chip shot from Interstate-75, Saddlebrook Resort awaits with two Arnold Palmer designed courses, luxury suites and one of the country's premier tennis facilities.
Alas, Super Bowl rings may come and go, but Tampa can always cling to its three greatest assets: a jaw-dropping location along the tranquil blue waters of the Gulf of Mexico, some of the world's best weather, and a bountiful supply of resort and daily fee golf.
Course Reviews
Features
Resort Reviews