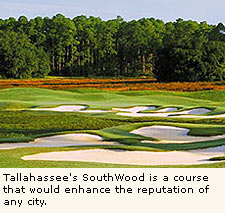 Emerald Coast is the unsung golf hero of the Sunshine State
Western Florida has been dubbed the Emerald Coast because of a unique phenomenon. At certain times of the day, the Gulf of Mexico waters just off the Panhandle shimmer with a pure, mesmerizing green hue.
The contrast between the calm, jeweled Gulf water and the pure white "sugar" sand beaches can be startling and is the reason why this is one of the truly beautiful and appreciated havens to those who know it. Thousands of families visit this stretch of Florida between Panama City Beach and Pensacola each spring and summer to indulge in the powdery sand and consistently ideal weather.
Those folks familiar with the South will kindly explain to you that Florida is not a "Southern" state. Miami has as much in common with rural Mississippi as day does with night.
Tallahassee, however, is a different story. If there's one city in Florida that could blend seamlessly into Georgia or Alabama, it's this one (it's closer to the Georgia border than it is to the white sand beaches of the Gulf of Mexico).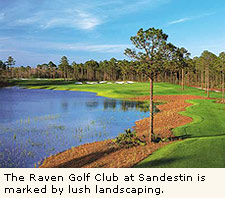 If you've ever been to Tallahassee, you've probably noticed that not only is its scenery different than most of the state, its overall character is as well. Specifically, conservative Tallahassee doesn't exude a "Fun in the Sun" personality the same way locales to the south do.
The debut of SouthWood Golf Club, which held its grand opening in November 2002, changed Tallahassee's somewhat lackluster golf reputation. The Fred Couples/ Gene Bates designed course gave capital city its very own top notch layout - one that would no doubt be considered a must-play in areas with considerably more golfing prowess.
The golf bug has long since spread outside the friendly confines of Tallahassee. Once a quiet enclave of fishermen and naturalists, Destin has blossomed into a choice drive market destination for golfers throughout the South.
The beaches, convenience, reasonable lodging rates, and endless assortment of outdoor activities are the principle reasons for its expanding popularity. Golf, too, must be considered on that list.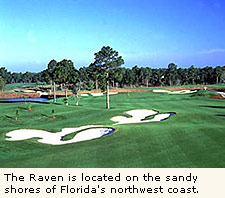 "We've now got as many golf holes here as Hilton Head does," says Emerald Coast Convention & Visitor Bureau President and CEO Darrel Jones. "There's as much variety in the kinds of courses as well, if not more.
"We've got more than 1,000 holes to play and new courses keep popping up every year. Ten years ago we weren't even close to that number."
Although the Emerald Coast's courses are spread out over a larger geographic area than other golf markets in the South, the caliber of play is certainly worth sampling. And as Jones says, the number keeps growing as some of golf's leading architects seek to add their names to the ledger in this largely untapped golfing region.
Course Reviews
Features
Resort Reviews